May 2023 newsletter
Environments that inspire
Do you enjoy spending time in the great outdoors, breathing the fresh air with deep gulps? Or do you savour time curled up on a soft chair in a quiet corner, with a cup of tea and a good book? Maybe you love large social gatherings, connecting and sharing with boisterous energy. Or perhaps you prefer time alone, spending time with your thoughts and dreams. Each of us has an ideal environment in which we thrive.
There are many facets to the concept of environment, and each of them affects how we think, feel and grow. Physical space is the most obvious: when we look around, what do we see, and how can we live, learn and play within the space? Consider the materials in our environment. Is there a variety of meaningful materials that invite us to engage in our learning and growth? Time is also important to consider. Do routines give us opportunity to reflect, explore ideas and interact with others? We must also consider the relationships with other people who share our space. How do we nurture and strengthen these relationships throughout the day?
Our role as early childhood educators is to create relationship-driven, responsive, inclusive and thoughtful environments in which each child can thrive. Consider how you design spaces (indoors and outside), share and display materials, and build time in each day for thoughtful and sustained engagement.
What children learn does not follow as an automatic result from what is taught, rather, it is in large part due to the children's own doing, as a consequence of their activities and our resources.
Loris Malaguzzi, founder of Reggio Emilia educational philosophy
Do you know?
Ongoing professional development is an important aspect of quality early learning environments
The Yukon's licensed early learning programs and early childhood educators can access professional development in many ways:
Individual ECEs can apply for up to $500 of enhanced bursary funding for ongoing professional development opportunities such as credit courses, non-credit courses, webinars, conferences, online learning events, etc. Email earlylearning@yukon.ca for more information.
Licensed early learning programs can access professional development funding for their program or team. This could include funding for workshops, seminars, online learning events, and on-the-land learning. Reach out to earlylearning@yukon.ca to share your idea and request funding.
The ELCC team can offer PD to support your learning and development needs as requested. Reach out to earlylearning@yukon.ca with your requests.
The ELPS (Early Learning Program Supports) team from the Child Development Centre is happy to provide centre-specific sessions on topics of your choice. Call Janine Fryer at 867-687-4800 or email her at janine.fryer@cdcyukon.ca to discuss options.
Do you have an idea for a professional development opportunity you can share with other programs? Reach out to earlylearning@yukon.ca to discuss ways to share your knowledge and expertise with other Yukon educators.
Rethinking the Classroom Landscape
Creating environments that connect young children, families and communities
"An early childhood classroom should reinforce and enhance young children's sense of belonging and connection to their environment, each other, their families, and their community. Rethinking the Classroom Landscape invites educators and administrators to rethink the traditional classroom, with inspirational examples showing how to weave elements that reflect each center's community into the classroom design and decoration." (from the back cover)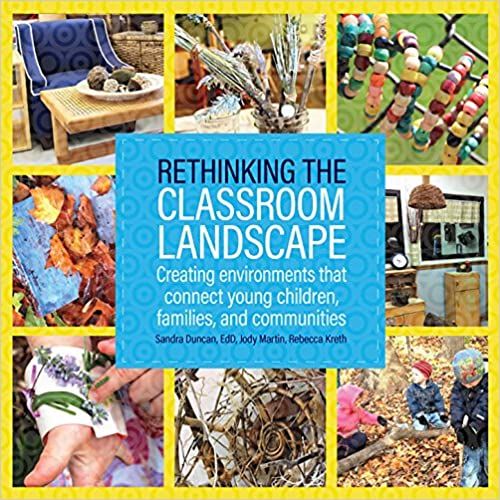 Rethinking the Classroom Landscape invites early childhood educators to "transform ordinary spaces into reflective and meaningful landscapes" (from the preface), and builds on five guideposts:
Create an environment worthy of its inhabitants.
Meet the basic needs of all children in their environments.
Provide authentic play places for young children.
Connect children to community.
Naturalize children's environments.
As educators, it is important for us to create environments in which all children feel safe, included, inspired and engaged. How do we infuse a classroom with equity and creativity and delight? How do we create a space where children truly belong?
The best classroom and the richest cupboard are roofed only by the sky.
Margaret McMillan, activist and educator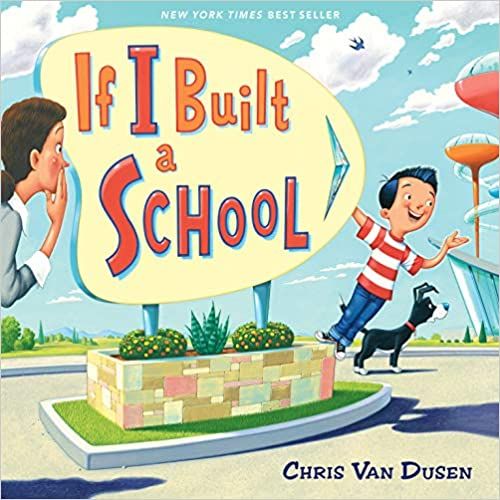 And learning is fun in a place that's fun too.
Imagine if children's environments could reflect their own ideas and voices! What would an early learning program look like if each child could use their imagination and design a space that sparked joy, creativity and engagement?
If I Built a School is a rhyming and rollicking read, giving life to a young boy's ideas as he creates and builds the school of his dreams. This book can inspire us as early childhood educators to find ways to share space in our environments for children's visions, ideas and dreams. Let's create spaces for children where they can't wait to arrive!
Grow
"The importance of the early care and learning environment – sometimes referred to as the "third teacher" – cannot be underestimated in shaping the experiences of children and adults. Children and adults live and learn in relationships with the people around them but are also profoundly affected by their relationships with spaces and materials."
(B.C. Early Learning Framework, 2019, p. 22)
Consider these reflective questions:
Do materials, spaces or rituals/routines invite joyful engagement? What materials, spaces or rituals/routines seem to inhibit joyful engagement? (p. 69)
Do children have opportunities to engage with objects and materials in unusual or surprising ways? How could I experiment with this idea? (p. 74)
Consider how materials are presented. How does this limit or invite experimentation and investigation? (p. 77)
Explore
Activity idea:
Provocations – "Provocations are experiences I set up in response to children's interests and ideas. When I set up a provocation I am providing hands-on exploration for children to practice, test, construct and deconstruct their ideas and theories". (fairydustteaching.com)
Explore ways you can follow children's interests when planning activities or choosing materials.
Materials:
Photos, pictures, or books
Items from nature
Art supplies
Objects related to a child's interests
Familiar materials displayed in new ways
Books to read:
Not a Box by Antoinette Portis
Not a Stick by Antoinette Portis
Leaf Man by Lois Ehlert
What Do You Do with an Idea by Kobi Yamada
The Most Magnificent Thing by Ashley Spires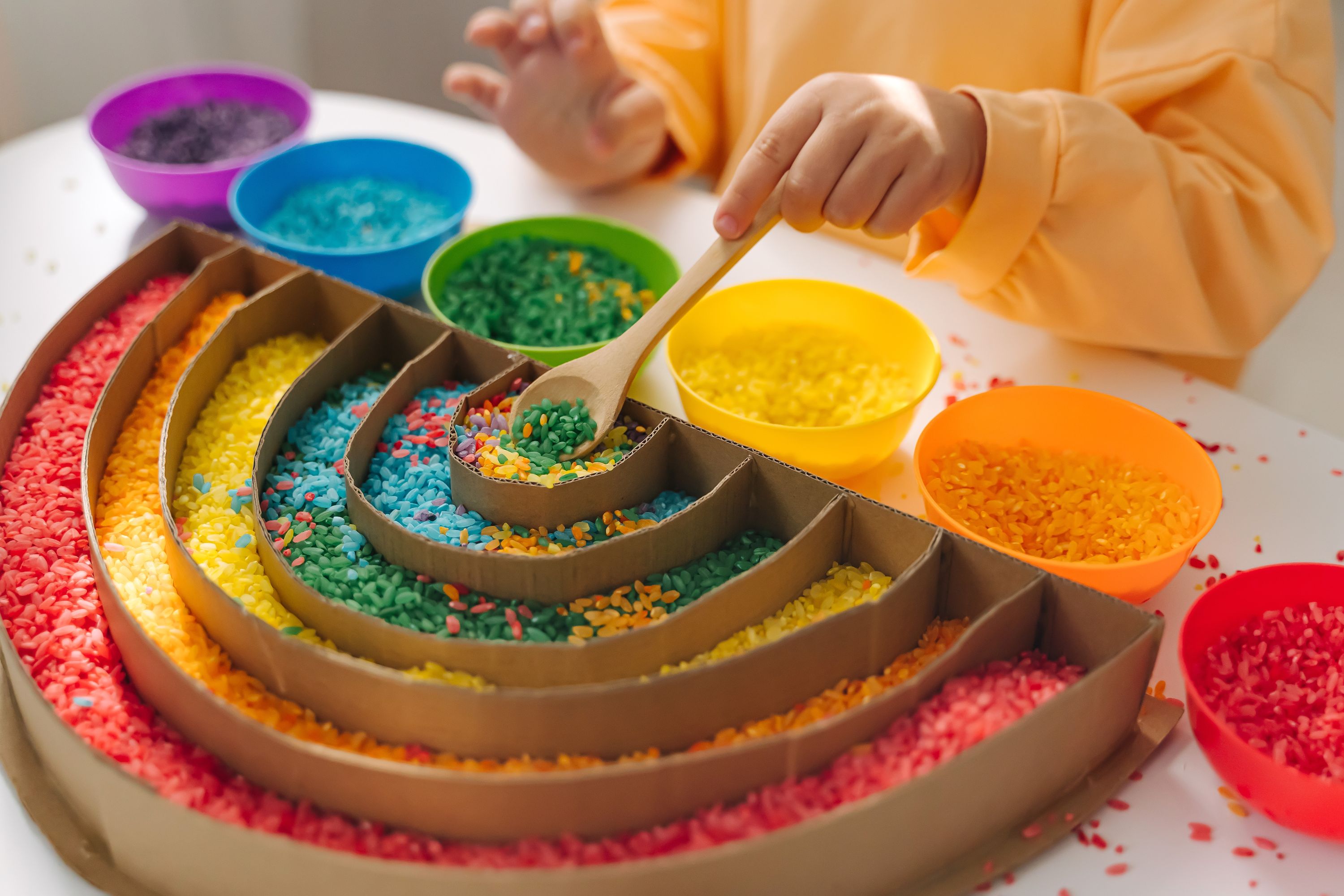 More resources:
Looking for Learning: Provocations by Laura England (educator resource)
The most effective kind of education is that a child should play amongst lovely things.