September 2022 newsletter
It's good to be curious about many things.
As students return to school, early childhood educators also have an opportunity to nurture curiosity and creativity, to focus on personal growth, learning and development.
The Early Learning and Child Care unit was excited to launch a new web hub as a place to share information and encourage ongoing learning for all early childhood educators. This is a space for educators, and we want your feedback in order to continue developing it as a resource that is useful and inspiring!
An enhanced bursary funding program has also been created, to encourage ongoing exploration and learning on a variety of topics that support your work as early childhood educators.
The Government of Yukon has launched a new Early Learning Educators Web Hub. The new Hub is a virtual network that provides early childhood educators:
access to online courses and resources;
information on Yukon early learning events and updates; and
information on funding for educators and more.
Early childhood educators working in licensed early learning and child care programs can access up to $500 in enhanced bursaries for learning and development opportunities. Bursary funding will also be available to assist Yukon residents studying in the field of early learning, supporting both full- and part-time studies, and credited and non-credit coursework. Additionally, early learning program operators and partners will have opportunities for funding to create and deliver professional development for early childhood educators.
Funding is available for educators to:
learn and apply new knowledge and skills;
enhance high quality programming for Yukon children;
advance their education; and
achieve full certification as a level 3 early childhood educator.
September is also a time to learn about Canada's National Day for Truth and Reconciliation. September 30 is a day to come together to honour the children, survivors, families and communities affected by residential schools. Please consider spending time this month learning, listening and reflecting on the role early childhood educators have in reconciliation.
Reconciliation includes anyone with an open mind and an open heart who is willing to look into the future with a new way.
Chief Dr. Robert Joseph, Ambassador for Reconciliation Canada
Truth and reconciliation
September 30 is Canada's National Day for Truth and Reconciliation
The National Day for Truth and Reconciliation is a day to pause, reflect, and acknowledge the tragic history and ongoing legacy of residential schools in Canada. As educators, our role in reconciliation involves acknowledging what we do not know about Canadian Indigenous peoples, and committing to learning and listening. There are many different ways to learn more about Truth and Reconciliation, Yukon First Nations history and Yukon First Nations languages. Many Yukon First Nations have their own websites, sharing their histories and cultures. Please visit their websites to learn more, and consider some of these additional resources:
Education is the key to walking on this journey of reconciliation. Teachers in particular have a sacred responsibility to ensure that all their children, regardless of their heritage, are able to think about four key questions throughout their education: "Where do I come from?", "Where am I going?", "Why am I here?", and most importantly, "Who am I?
The Honourable Senator Murray Sinclair
Every child matters poster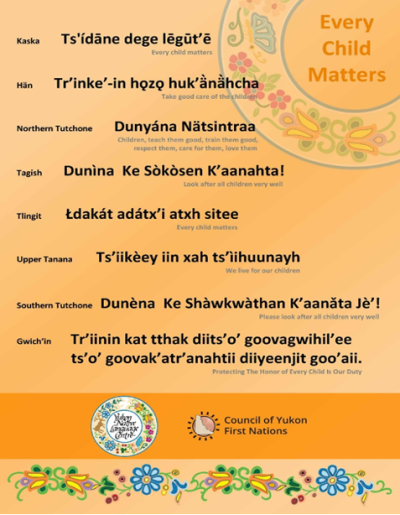 The Yukon Native Language Centre, Council of Yukon First Nations and respective Yukon First Nations, are pleased to provide a poster of "Every Child Matters" in all 8 Yukon First Nations languages.
If you are interested in a copy of this poster for your use at your early learning program, visit the Yukon Native Language Centre website to download a copy:
https://ynlc.ca/2022/05/16/every-child-matters-poster/
"I want you to remember the ways of our people. I want you to remember our songs and our dances, our laughter and our joy, and I want you to remember our land."
From Shi-shi-etko by Nicola Campbell
Explore
Handprints have become a well-recognized symbol of orange shirt day and the Every Child Matters movement. On this National Day for Truth and Reconciliation, honour the children who never got to go home and those children you now care for by creating handprint art. There are many different ways to do this:
Activity idea:
Use orange paper cut into the shape of a shirt as the canvas.
Use fabric paint and create custom shirts.
Invite families to create wreaths or trees together.
Even infants can join in the fun with easy to make edible paints!

Books on residential schools for young children:
Phyllis's Orange Shirt by Phyllis Westad
Shi-shi-etko by Nicola Campbell
Shin-chi's Canoe by Nicola Campbell
Grow
"Whether Indigenous or non-Indigenous, educators in all communities have an important role to play in responding to the TRC (Truth and Reconciliation Commission) and UNDRIP (United Nations Declaration on the Rights of Indigenous Peoples) by learning and educating others about Indigenous peoples' experiences of systemic marginalization and forced assimilation, and how we all have an obligation of redress for the damage done, and being done, to Indigenous communities."
(B.C. Early Learning Framework, 2019, p. 31)
Consider these reflective questions:
How might children become involved in community or global projects related to social justice?
In what ways do children have opportunities to discuss real-life issues such as segregation, diversity, poverty, race, war, gender, discrimination, and inequity?
What do I know about Canada's colonial history and the systemic marginalization and forced assimilation of Indigenous peoples? How can I find out more?