February 2023 newsletter
Building connection
Every day there are opportunities to build connections with others, opportunities to create attachments that last a lifetime. Attachment supports the healthy development of children, families, and communities.
Building relationships is not about transactions – it's about connections.
Michelle Tillis Lederman, author
Connection is built in the moments we spend with children. How we use those moments matters. Each moment is an opportunity to build attachment.
When you provide food and shelter for a child, hold their hand, and speak to them with respect, you show a child they are safe. When you ask a child about their play, cook their favorite meal, and listen to their stories with interest, you show a child they are seen. When you comfort a child, affirm their feelings, and empathize with them, you soothe a child's soul. When you are there to encourage, support, laugh, and play with children, they feel security and love.
This is what children need. They need respect, validation, presence, and support. They need to feel safe, seen soothed, and secure. They need connection. We all do.
A child may not know what direction he is going, but when he is attached to you, he doesn't feel lost.
Dr. Gordon Neufeld, psychologist and author
How do you create meaningful experiences and moments with children?
How do you cultivate meaningful connections for yourself, and for the child within you?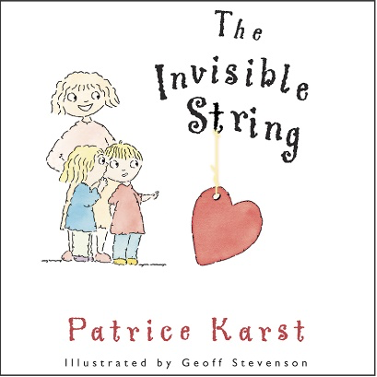 Part of supporting healthy attachment in relationships includes giving children the independence and resilience they need to thrive, even when their loved ones are not with them.
The Invisible String tells a heartwarming story of twins learning to trust that their mother is always connected to them in their hearts. The story provides a tool for helping children deal with separation anxiety, loss, and grief.
A strong and loving attachment provides children with inner strength and confidence they need, trusting that the invisible string of love connects them to sources of care.
People who love each other are always connected by a very special String, made of love. Even though you can't see it with your eyes, you can feel it deep in your heart, and know that you are always connected to the ones you love.
Attachment
Exploring the deep and lasting connection that children form with the people in their lives
Attachment is all the things we do and say that help those important to us feel safe, seen, soothed, and secure. Research has shown these four things are key in developing healthy people. The first step to healthy attachment is providing physical and emotional safety. Being mindful and present with others allows them to feel seen and valued for who they are. Offering comfort and empathy in times of distress creates a safe, secure connection. Offering repairs when damage occurs in a relationship is part of attachment. When a child feels safe, seen, soothed, and secure, a healthy attachment can develop.
Secure attachments link to a whole range of benefits for both children and adults. Healthy attachments support healthy developmental outcomes across one's lifespan. A secure attachment is what provides the foundation of trust in ourselves, in others and in the world. Having trust in a personal relationship allows us to feel safe to explore and engage with the world around us. It contributes to our self-esteem, self-confidence, and self-efficacy. Humans are social beings. We do not survive in isolation. Instead, we depend on others for safety, validation, comfort, and security. When these needs are met, we can face challenges throughout our lives. We know that we have a safe place to fall back to and we feel encouraged to try again. The attachments we develop as children influence our self-concept, adult relationships, and parenting styles. Building secure attachments in children supports their optimal development. It sets up a future full of possibilities, full of curiosity, exploration, joy, and wonder.
Acknowledge accomplishments big and small

Sit and eat meals together family-style

Build a fort with children and play in it together

Celebrate events that are special to the children

Make space for children to try things on their own

Ask children about their creations

Help children master new skills

Have dance parties!
Showing up, being present in the moment and helping someone feel safe, seen and soothed, that's my North star. That is always the answer.
Dr. Tina Payne Bryson, psychotherapist and author
Do you know?
Enhanced bursary funding is available to early childhood educators
Yukon early learning and child care educators are recognized and valued as qualified professionals with specialized knowledge of young children. The enhanced bursary funding offers early childhood educators the opportunity to learn and apply new knowledge and skills that help them provide high quality programming for Yukon children. The fund provides access to funding for ongoing professional learning opportunities beyond post-secondary coursework.
Each applicant is eligible to apply once for up to $500.00 to attend a non-credit learning and development opportunity. Opportunities could include webinars, online conferences, or workshops related to working with young children. Funding is provided upon approval of an application.
Looking for learning and development ideas?
Learn more about related training opportunities, and ways to develop your skills as an educator here: https://yukon-early-learning-educators.ca/en/learning-and-development/learning-opportunities.
For more information about the enhanced bursary fund, please reach out to earlylearning@yukon.ca.
Education is for improving the lives of others and for leaving your community and world better than you found it.
Mariam Wright Edelman, civil and children's rights activist
Grow
"Nurturing a sense of well-being and belonging supports children as they learn about and investigate the world around them. This sense is fostered through reciprocal relationships with people and places where each child is valued both as a gift and for their gifts – a feeling of being grounded in their immediate environment, their communities, their culture, and the wider world."
(B.C. Early Learning Framework, 2019, p. 67)
Consider these reflective questions:
What does it mean to be in reciprocal relationships with children, families, and colleagues?
How can each child contribute their gifts in relationship with adults and other children?
How might children and adults seek to know one another's gifts?
What could I do to contribute to a child's sense of pride in their gifts?
Explore
Activity idea:
Heart mapping – What is love? Who and what do you love the most? If we could see inside your heart, what would we find?
Ask children to think about the things and people in their hearts that they love and hold dear. Give them materials and time to fill in a "map of my heart" with things that are important to them – people, places, activities, and memories. Make sure to display their creations as a way to make their learning visible.
Materials:
Paper
Heart template, or drawing of a heart
Paints, markers, crayons
Books to read:
My Map Book by Sara Fanelli
In My Heart by Jo Witek
My Heart is a Compass by Deborah Marcero
True navigation begins in the human heart. It's the most important map of all.
Dr. Elizabeth Kapu'uwailani Lindsay, anthropologist, explorer, actor